If few months ago we announced the success  PLAYCOLOR LIQUID new launch, now our liquid range of references  is expanded with more school paintings for crafts.
For little kids, who feel like start painting with their fingers, we have created PLAYCOLOR FINGER PAINT. With a range composed of 8 different colors: white, yellow, orange, red, green, blue, brown and black. It comes in different formats: in 250ml, 500ml or 1000ml bottles and also in 40ml containers. Our finger paint can be applied directly with the hands and fingers, with all guarantee and without risk of skin irritations, because it is dermatologically tested.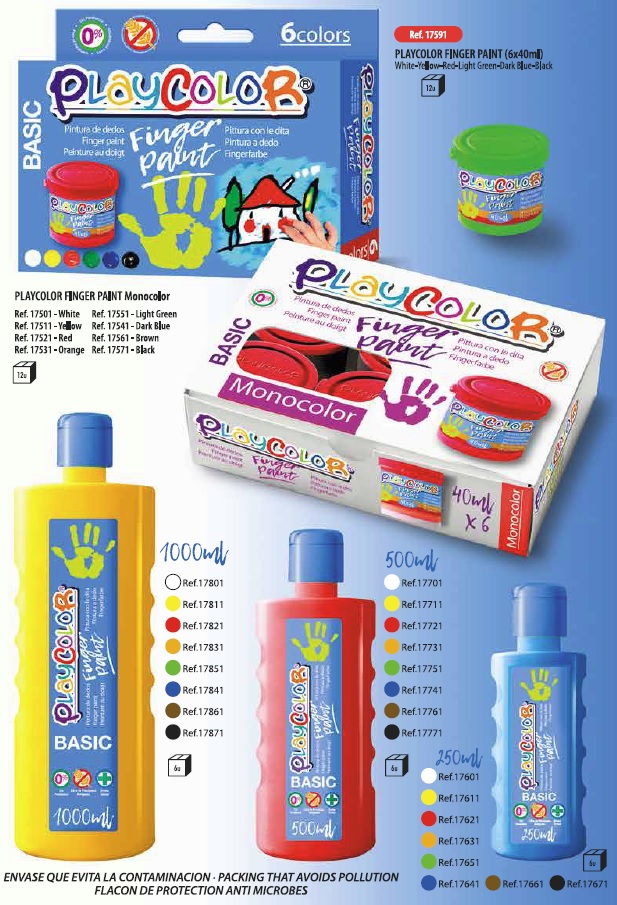 For those who wish to play with colors and expand their creativity, they can enjoy PLAYCOLOR ACRYLIC. This acrylic paint allows to paint on different supports (canvas, paper, wood, ceramics, walls, leather, metal, stone, …) and above all,  with different application techniques. Beyond the brush, you can try with sponge, smudges, spatulas … Its quick drying, requires to let your painting tools keep wet while working, but in turn, allows  to make color mixtures and different painting layers.
PLAYCOLOR ACRYLIC comes with an extensive range of 14 different colors, including gold and silver. You will find PLAYCOLOR ACRYLIC in your usual stationery, craft shop or school distributor in 40ml containers. or in 250ml bottles.