An unforgettable experience, with PLAYCOLOR fluo paints and  ultraviolet light. Enjoy this magical darkroom workshop, that they will remember for a lifetime.
Finding original handcraft ideas, that excite them, is not always easy, isn't it? To take kids off the screens, either.
When adding new elements, such as fluo paint and an ultraviolet lamp,  a very special atmosphere appears.  It is the way to play and draw in a really pleasant and relaxing environment!
This darkroom workshop is a lovely idea. A perfect activity for the little ones to lose  dark fear. But even pre-teens will not going to be able to resist to organize a creative "neon party", or decorate their stage activities.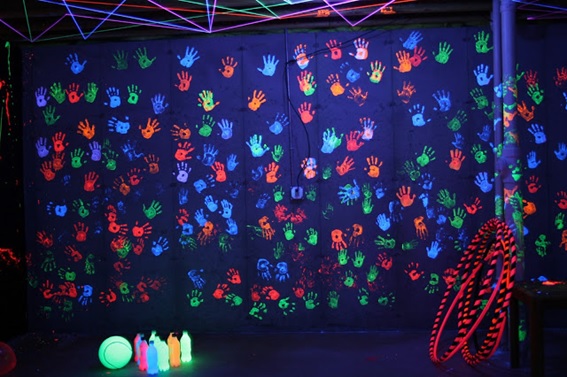 @ourlittlewomen.blogspot.com
In this post, we have put together some ideas for creating a magical darkroom. With ultraviolet light paint, with general light off, and without completely darkness.
Materials to create a magical dark room:
Fluo paint: Choose between PLAYCOLOR FLUO solid poster paints, and / or PLAYCOLOR LIQÜID FLUO liquid paint (in two formats: 250ml jars or 40ml jars).
Packing paper: To cover walls and surfaces to be decorated.
UV Lamp: You can easily get a light bulb or flashlight in Amazon.
@ParcInfantilAlpPuigcerdá
With PLAYCOLOR FLUO solid poster paint make a large mural where to paint with no limits. So clean and confortable!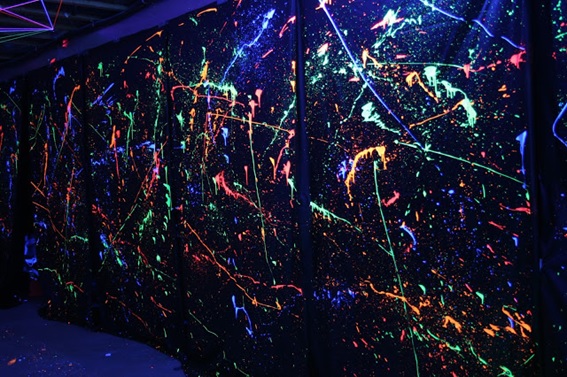 @ourlittlewomen.blogspot.com
Take the experience to the limit with PLAYCOLOR LIQÜID FLUO. Abstract panels splashing fluopaint all over.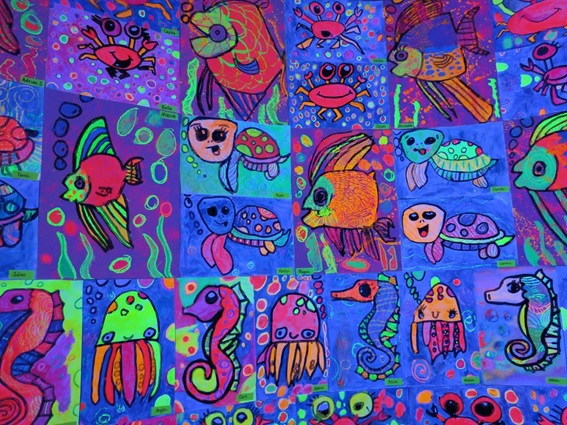 @1.bp.blogspot.com
Get a great thematic setting, with the set of small creatives. Enjoy the experience of painting in a magical dark room.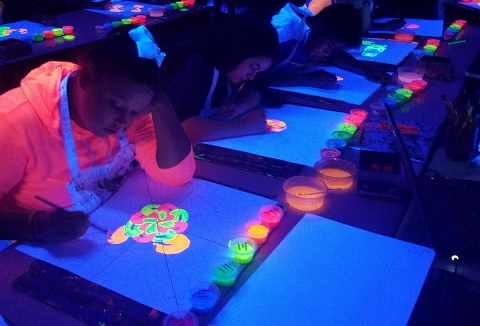 @mrmintart.blogspot.com